Irrigation is the backbone for a healthy landscape. So, it's only natural for homeowners to ask themselves the following question: "When should I turn on my sprinkler system?" Today, we'll go over the importance of keeping water flowing for your lawn, the right time to activate your sprinkler system, and some spray patterns to keep in mind for your landscape. So, keep on reading to learn more!
Importance of Having a Lawn Watering Schedule
Watering your lawn is among the top priorities a homeowner should have.
And although it might seem pretty straightforward, certain things can negatively impact your landscape. For this reason, you must count on the right sprinkler system type and watering plan for your lawn.
Having a lawn watering schedule and knowing the different seasonal changes will help your lawn to stay healthy all year long. By neglecting these things, your lawn and even sprinklers can end up being damaged.
Additionally, a watering schedule will help avoid issues such as a wet and soggy lawn.
When Should I Turn on My Sprinkler System?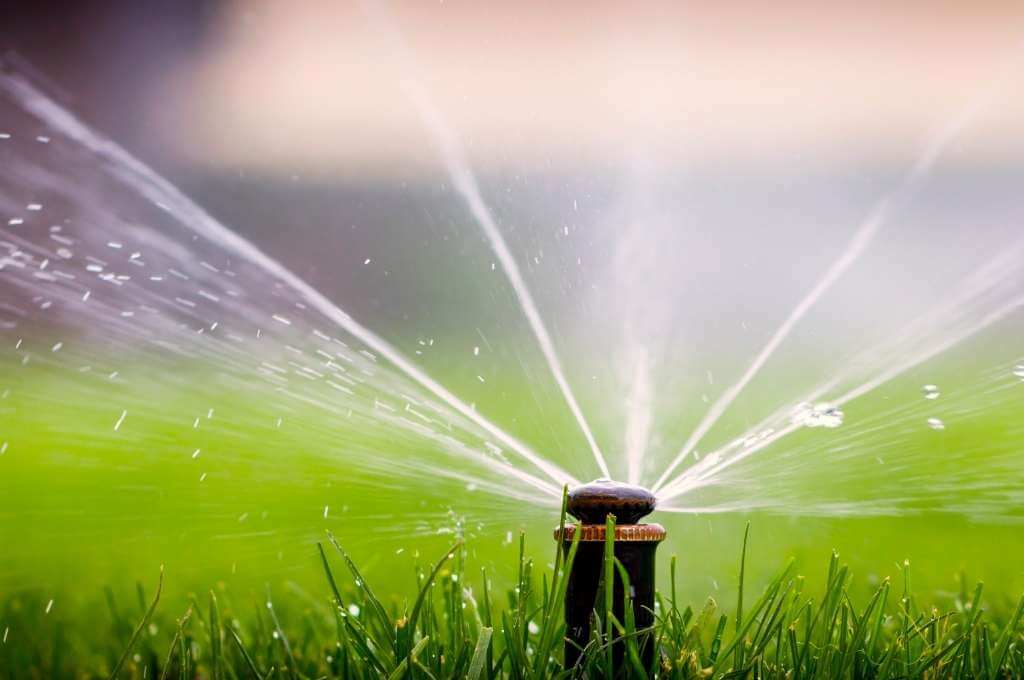 Spring often brings irregular weather patterns.
That's why it's common for people to be clueless about when is the right time to turn the water back on for your lawn. Unfortunately, the answer isn't so simple.
When asking yourself the question of "when should I turn on my sprinkler system," you must be aware that activating it depends on where you live. Simply put, you must turn your sprinklers on when temperatures are over 32 degrees Fahrenheit. Also, remember to water the lawn when dry.
As you may already know, seasons often have a different impact on the region you live in. That's why you need to have an idea of the time the temperature tends to drop in your city.
Moreover, another rule of thumb to keep in mind is always to check the weather app daily. That way, you'll be able to know any temperature drops. In case it gets below 30 degrees, then you'll need to turn them off.
Lastly, when turning on your irrigation system, you'll want to do so slowly. The reason behind this is that a water hammer can occur. In other words, your sprinkler heads are at risk of bursting due to the pressure caused by the water.
Common Spray Patterns to Consider for Your Sprinkler Installation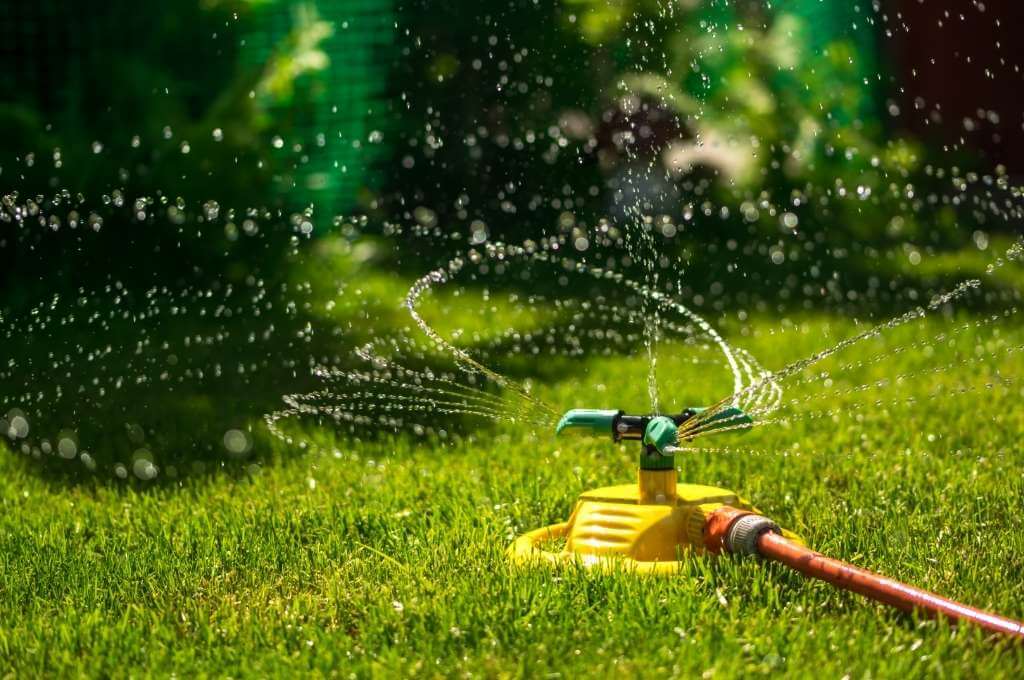 When turning back on your sprinkler system, you'll need to keep some pointers in mind. By doing so, you'll be able to get your lawn and flowers lush and bright for the spring.
For instance, be sure to see if the ball valves are open. You can check this by inspecting their control slot or handle. If it's parallel to the pipe, then it means that they're open. On the other hand, if it's perpendicular, then it's fully closed.
Then, run a manual test to see if all sprinkler heads, vacuum breakers, and valves are working correctly.
Lastly, adjust the spray pattern to your landscape's needs.
Here are some spray patterns you can consider for your lawn:
Fixed spray
Impact rotating spray
Gear-driven rotating
Misting or micro-spray
Fixed Spray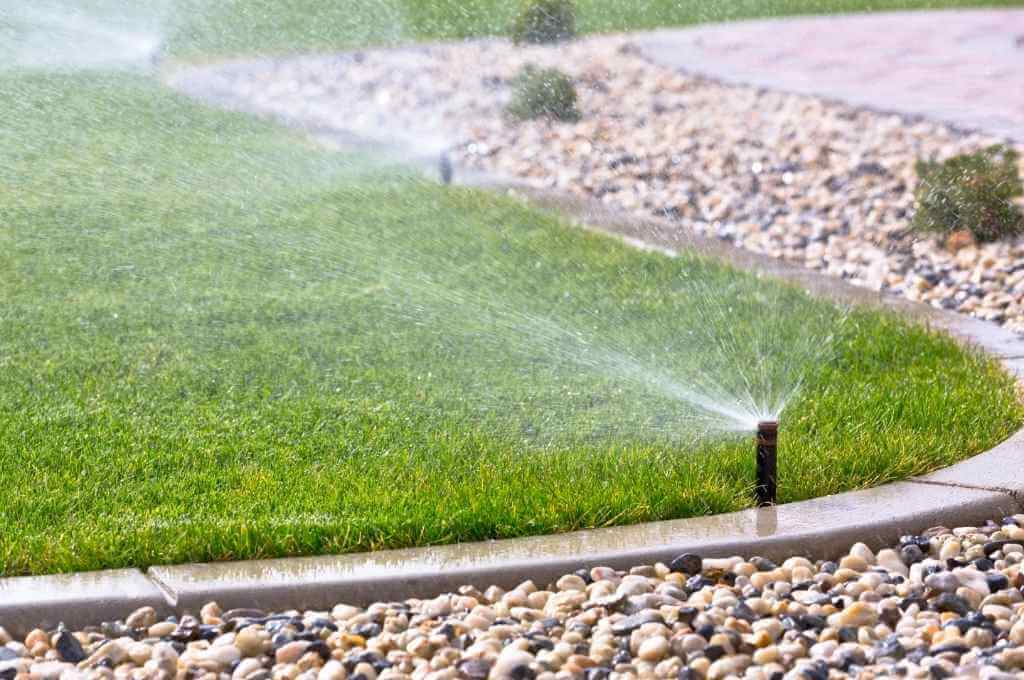 The fixed spray is one of the most common spray patterns. As the name implies, this sprinkler head is designed to be stationary.
So, you can picture water flowing in constant, static, and thin streams that fan out from the center of a circular nozzle.
This type of sprinkler system can irrigate from 3 up to 15 feet around.
Here is the exciting thing about these sprinkler heads:
You can adjust the spray to cover 40, 180, and 360-degree patterns.
For instance, if you place a sprinkler head next to a walkway, you want to set a 180-degree pattern (half the circular pattern) to keep the walkway dry and the lawn irrigated.
Impact Rotating Spray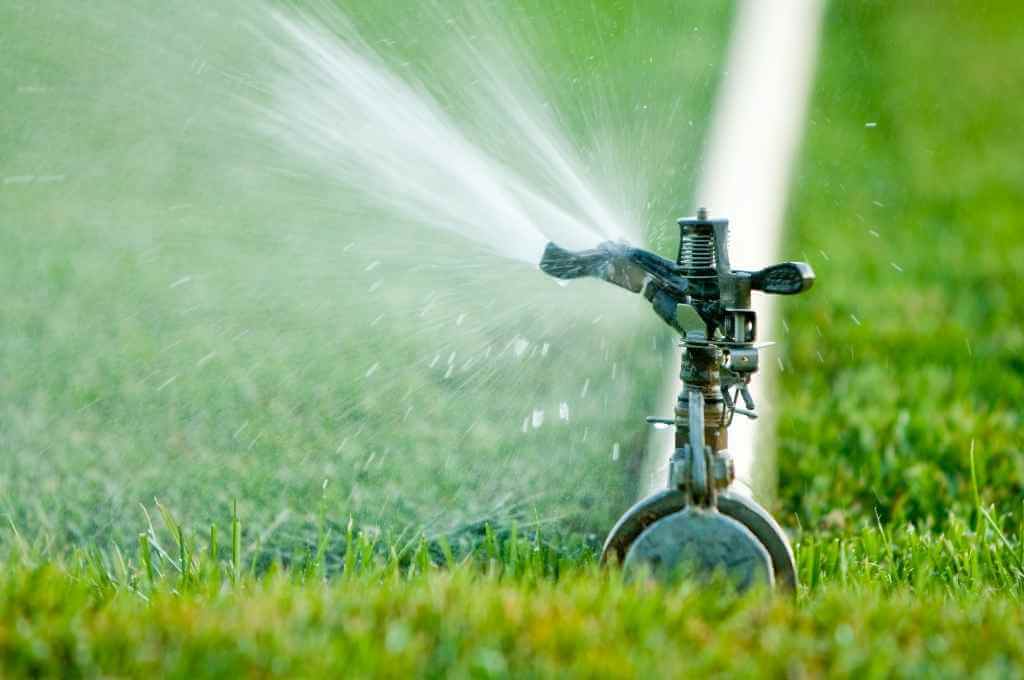 Impact rotating spray is one of the classical irrigation system heads.
When I was a kid, I used to wait for the rotating spray and then run away to avoid getting sprayed. Sweet times.
This irrigation system is ideal for covering large green areas. The impact sprinkler is designed to rotate in a circular direction.
How does an impact sprinkler work?
In simple words, here is how:
The force of flowing water and a metal spring keep the sprinkler arm going back and forth. The sprinkler arm's impact is what helps the sprinkler head rotate and divert water on a circular pattern.
Impact sprinklers tend to be loud. Thus, make sure you don't turn your irrigation system when your loved ones are still asleep.
Gear-Driven Rotating
One of the great things about gear-driven rotating heads is that they are less expensive and quieter than impact sprinklers.
Also, gear-driven sprinkler heads offer various spray patterns. They rotate thanks to a drive mechanism enclosed in a plastic case to protect the sprinkler from yard dirt and debris.
Even though they look small, they can get the job done. Gear-driven sprinklers can irrigate your lawn with a radius of 18 to 55 feet.
Misting or Micro-Spray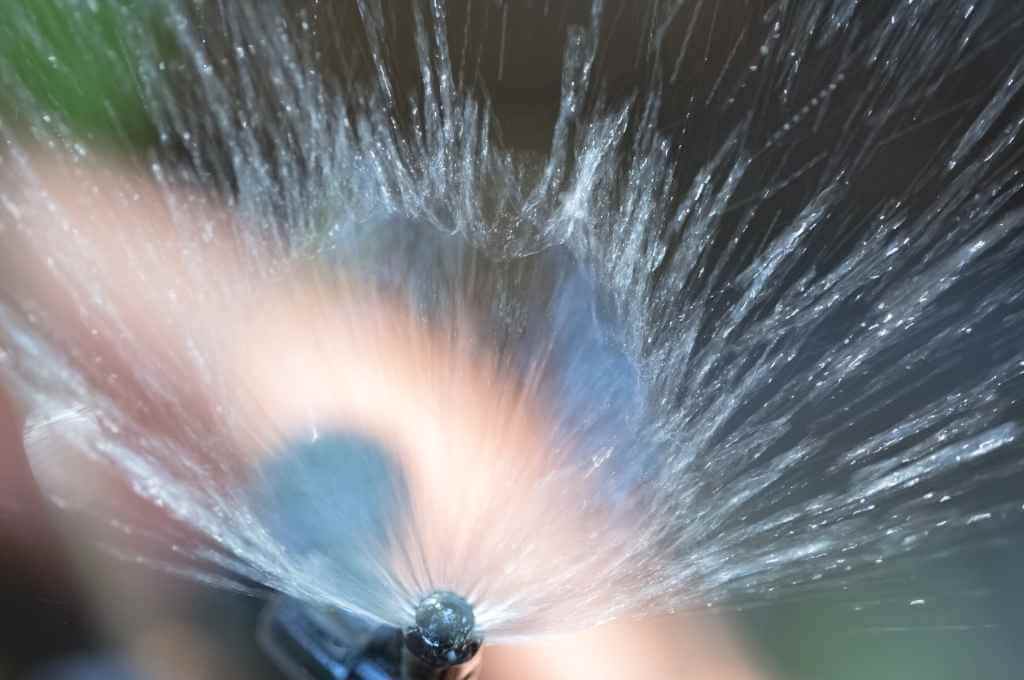 Misting is another spray pattern you can consider for your sprinkler installation.
This type of sprinkler pattern is ideal for plants that require a delicate spray pattern. And since it diverts less water than the previous examples, this irrigation system is cost-effective.
Click here to learn your sprinkler system options.
Turning the Water On at the Ideal Time in Spring Is Key!
After being buried in snow for so long, your grass in spring is weak, exhausted, and dehydrated.
And since it started growing again, it will soon need water. But snow will leave moisture on the ground, so don't be tempted to water your lawn in early spring.
So, if you're still wondering, "when should I turn on my sprinkler system?" remember that nature will give you the answer. It would be best if you waited for your grass to show signs of wilt. And that's when you prepare everything to begin irrigating to nurture a lush lawn.
Also, you need to set up the right amount of water. Thus, you won't fall into the trap of over-irrigating your grass and plants.
In case you need a professional sprinkler installation or if you've got any doubts, be sure to contact us! We'll be more than happy to help you out.